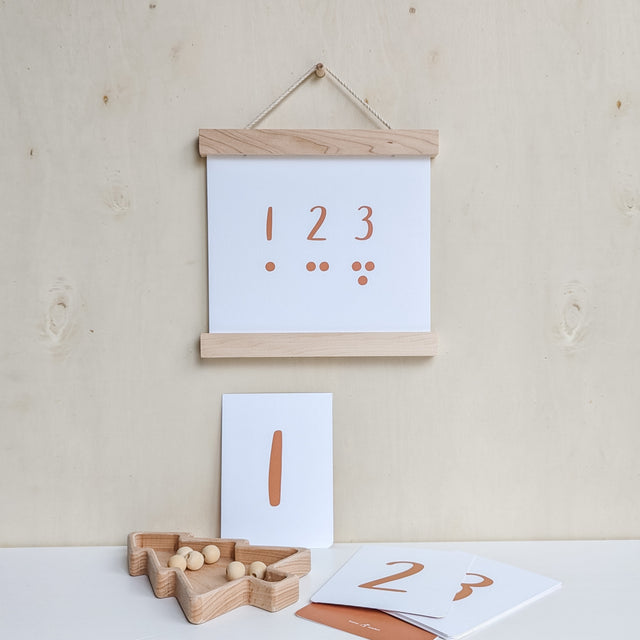 This natural wood and earth-toned Montessori-inspired learning materials bundle includes everything you need to introduce counting and associating the symbol with quantity. 
It makes the perfect gift for a 2 or 3 year year old's birthday, for a baby shower gift, holiday gift and for parents who want to Montessori-at-home. 
How-to use the Counting 1-3 Bundle
To start, hang the art print close to the child's eye level where the child will be working on this activity. Store the cards 1-3 and tray with 6 counters on a shelf nearby. At first, we can encourage children to start by putting the number cards in order. Then using the counters, the children can start counting out the matching quantities out loud. 
The addition of the number cards and wooden counters, the included Montessori-inspired art print will provide a beautiful visual cue for the children to do this activity independently. 
Once your child is familiar with the numbers 1-3, you may introduce the subsequent numbers up to 5 and change up the counters to anything in your household. Eventually your child will be able to count up to 10! 
Counting bundle details
Includes:
numbers symbols 1-10 cards, colour: red earth
6 hardwood counters + handmade hardwood tree tray
8x8" 1-3 counting print, colour: red earth 

Add-ons: Shelf storage tray

Recommended for ages 2+, but with guidance from a prepared adult and interest from the child, younger toddlers may begin to associate their first numbers with symbols and use the art print to start the conversation around numbers.